This application is focused on finding identical files on a computer and allows to scan for images, audio files, videos, archives, applications or all programs. Is searching for identical file names or the content within files (for example archives with multiple files in them).
Also, users can disable searching by file name and the program will still show results because is searching by unique signature of each file (MD5). Allows to sort results by size and other criteria.
1. Interface
Simple and intuitive, select the locations where you want to search, choose only specific file types if you know what you want to eliminate and the scan will work faster.

2. Ignore files by size
Ignore files larger or smaller than desired size (KB, MB, GB).

3. Ignore file names and file dates matches
You can ignore to search by file name, but often this is the main criteria about you having identical files on computer.

4. Delete or keep a backup of duplicates
Once the program detects duplicate files, you can choose to move copies to Recycle Bin, permanently or keep copies of them in Rescue Center.

5. Results
The program will search on selected hard drives or folders locations and will display all duplicate files. Results can be sorted by file name, path, size or last modified date. The program suggests and check what to delete to make you work easier.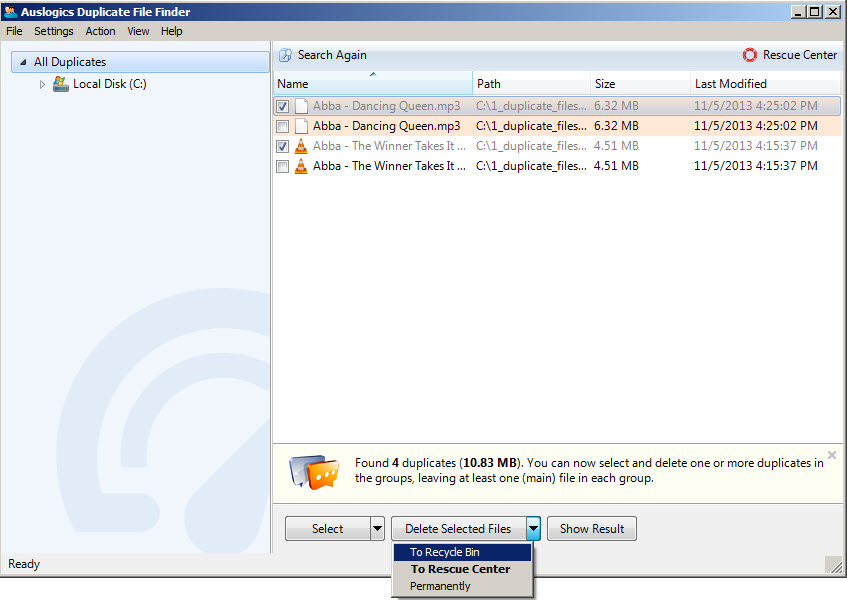 Visit website  http://www.auslogics.com/
Pros: good to find identical music and multimedia files
Cons: usability can be improved
OS: Windows 8, Windows 7 32-bit and 64-bit, Windows XP, Vista
License: Freeware