When you have identical files in different locations on a computer, this situation can create a lot of confusions because you don't know which version to use or will appear conflicts between files. Not only will take more hard drive space, but also will be difficult to use and manage those files because you can modify successively the same file in different locations and you will create multiple versions of that file, so is not productive at all. Duplicates make sense only as backup, ona different hard drive.
The identical files will create confusions, you will not know which is the latest version or what is the file you are working on. Keep a single version of your files and remove duplicates to increase the productivity, to  speed up the computer and reduce the costs by making available more disk space.
Here is a list with
5 best free duplicate file finder and remover
.
Auslogics Duplicate File Finder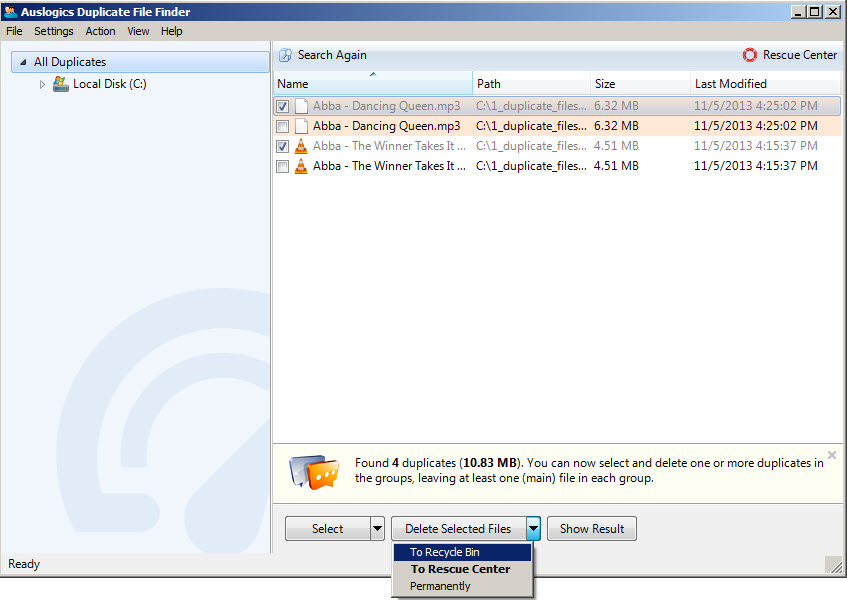 Modern interface and easy to use by anyone, is scanning very fast selected locations from hard drive. Allows to search only desired files by size, name or date, action can be paused or canceled any time, allows to sort results and delete them easily. Supports to delete results permanently or to keep them in a rescue center to get them back later, if is needed. A big advantage, compared with similar software, is that supports to search in different folder locations, not only a single one.
AllDup
This program offers a lot of options in case you need to customize your tasks more precise. Searching for files is running fast, results can be sorted and supports filters for search.
CloneSpy
This application features a simple interface and most of options are displayed on main window. Very useful for fast search and removing duplicates, without setting too many options. It features multiple workspaces that can be saved as default when program is started.
Fast Duplicate File Finder
With one of the best interfaces i have seen for duplicate finders and removers, this tool includes a preview area where you can view or play (text files, audio etc.) files before delete them. Another advantage is that you can search by similarity, so this program not only detects duplicates, but also identify similar files by a degree that you choose.
Anti-Twin
Offers basic settings to search for duplicates and delete them, can exclude desired extensions or search by file size and an interesting feature is that allows to search identical files that have different extensions.