This program is an advanced file shredder that allows to select between many erasing algorithms to delete permanently files or folders from local drives or attached ones such as USB sticks.
It can be set to run automatically based on a schedule, you can replace deleted files (and bits from remaining space) with other files to ensure a higher plausibility; allows to create multiple tasks and save them to Eraser's interface.
I tried to recover deleted files through Eraser with Recuva (a very popular file recovery program) and wasn't able to discover deleted files. All features, performance and usability makes me to consider it one of the leading programs to permanently delete files with no option for recovery.
1. Intuitive
The main interface is clean, without extra menus. However, it looks that is missing main button to select files, but clicking on top menu will allow you to select a New task and start to add files for deletion.
2. Different types of tasks
Choose if you want to do a manual selection and deletion, run on computer restart or a scheduled (recurring) task.
3. Many methods to shred data
The program will delete files, but will replace space on hard drive with other bit information, so no recovery software will work when someone intend to get back deleted files. Eraser allows to choose between many methods, some of them used by official organizations to protect their deleted files from being retrieved. The most popular is Gutmann method (after the name of the creator – Peter Gutmann) and will use 35 different patterns to rewrite space remained after deletion.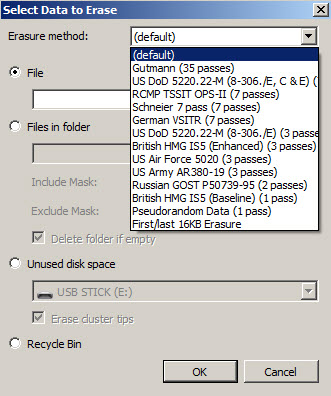 4. Different selections
The program allows to select individual files, entire folders or unused disk space for a drive. It works with files from local hard drive, but also with USB, external hard disk etc. connected to your PC.
5. Save tasks
Each task will be saved and you can use it again anytime, without setting a new task again. Also, allows to edit each task.
6. Real time progress
View the status of deletion process after you right click and Run selected task previously created.
7. Advanced settings
It has some advanced options where you can set default method, replace erased files with a new one and a few more.
8. Recurring taks
Unlike many other file erasers or shredders, this tool allows to set automatic tasks to run at desired intervals. You can set it for example to shred data from Recycle Bin daily. If someone try to recover files with a specialized software, will not be able to get files recently deleted through Windows classic Delete action.