Once you connect your computer to a local network or to internet, you are automatically exposed to some security risks. Your computer can be found by others through the network or internet and they can try to access to your PC. Or you can install a virus that can send information from your computer to third parties.
To control incoming and outgoing connections and keep your computer safe, you must use a firewall. This is different from antivirus software, but often a firewall application may be included in an antivirus product (often called Internet Security Suite).
A firewall is like a gate/door of your house: you control who comes in or exit. A firewall will keep away thefts to use your computer (people from outside or viruses from inside of your PC).
You can use separate programs for firewall and for antivirus. The advantage of using a separate firewall is that they offer, usually, a higher level of customizations and control for setting block rules, close ports etc. Also, Windows usually have a default firewall application included and if you use a router for network/internet access, these routers usually have a firewall included, too.
Here is a list with
4 best free firewall software
.
ZoneAlarm Firewall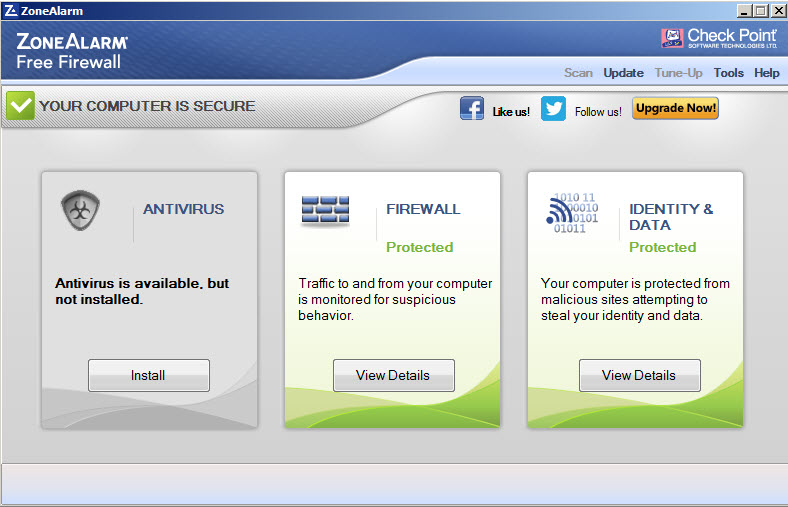 This program is continuously updated, it has a simple interface and displays real time reports about all blocks. Can be easily turned off or on with a single click. Includes a gaming mode to not disturb you with alerts if you play games, supports password protections, also allows to create custom rules for blocking or allowing certain applications or IP addresses.
Private Firewall
Despite its old interface, this software has a large number of options and interface is easy to use. You can choose desired module or section and tweak all needed settings there. You can view reports about all blocked applications or events.
TinyWall
This program is designed to extend and make easier the use of default Windows Firewall. Interface is very clean, is not intrusive, you can easily access different options through right click on application's icon from System Tray. Allows to create custom rules and save settings.
Windows Firewall
This application is included by default in Windows, it doesn't offer too many options and customizations, but can be used successfully to protect you when you are in a network or connected to internet.Just check it to be activated (turned on).