ImgBurn is a small application, but with powerful features, that is working with all modern storage devices such as Blu-ray, DVD, HD DVD and CD. Allows to write discs with files and folders, write ISO images (there are many extensions supported for optical disc file types), generate an image file and verify discs to see if they are healthy. Also, it displays all possible information about your ROM drive and there are a lot of options available to be changed or tweaked.
1. Interface
Clean and straight forward interface that contains main actions: write image file to disc (ISO, CUE, BIN ..), create image file from disc, create image from files and write files to disc.
2. Write image file to disc
This option allows to write files that are ISO type – ISO is the most popular format, but also support similar ones such as BIN, CUE, NRG and many others.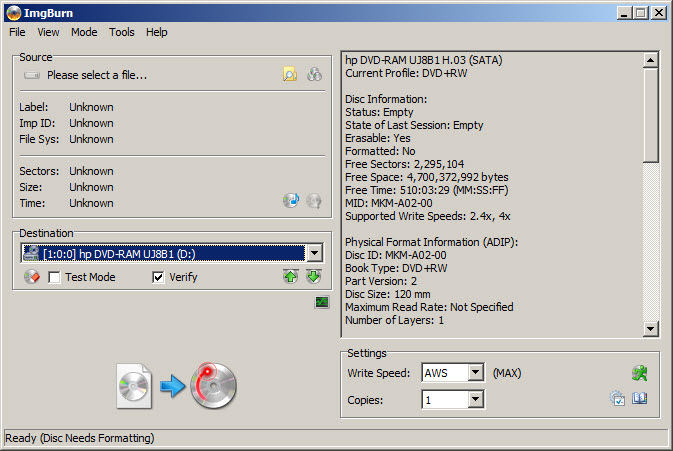 3. Write files to disc
Make a disc (DVD, CD, Blu-ray) with different files and folders from hard drive.Enabling test mode allows to simulate how the disc is written, also features option to test disc after burning to ensure about integrity and if is working ok.
4. Settings
There are plenty of options for users that need more customization, but after installation ImgBurn is ready to work excellent without any other tweak.
5. Log
A log with all operations made by this program is available on a separate window.
6. Navigate through menu forward and back
This option is not very intuitive, once you select an action such as "Write files", if you want to go back to main interface you can do that if you access "Mode->EZ Mode Picker" from top menu. A "Back to main interface" button could be more useful.
Visit website  http://www.imgburn.com/
Pros: can burn all types of DVDs and modern discs
Cons: is not intuitive how to go back to the main interface after you select an operation
OS: Windows 8, Windows 7 32-bit and 64-bit, Windows XP, Vista
License: Freeware