Windows Live Mail is a successor of popular Outlook (Windows XP) and is available for free. Is smart and you can add new accounts with a few clicks, it has a modern user interface that you will love it if you like Microsoft Word. Is easy to block spam and create rules for emails, includes a calendar where you can enter tasks or to do things.
Support IMAP and POP3, you can choose to enter settings manually if you want, but the program is smart to detect them automatically, at least for popular email services such as Gmail, Yahoo etc.
1. Easy installation
I have installed the program through Windows Essential package which contains a list with applications.

2. Easy to add new account
It is very easy to add an email account. I have tested it with a Gmail email address and has worked with one click. Windows Live mail is able to detect all configurations automatically.

3. New account added with one click and in a few seconds
Is one of the fastest email clients that i have tested. With one click i was able to add a new account to interface and view all messages instantly.

4. Nice interface
Menu is well organized, with suggestive icons.

5. High quality email composer
Write a new email and use all tools that you may get used with in Microsoft Office (Word). Customize text, add colors, insert images, links, emoticons and more.

6. Calendar with events
Add different events and notes in a calendar. It helps to stay organized, to not forget things to do, manage appointments etc.

7. Add contacts with many details
Is great to add all kind of data for each contact from your address book, including phone numbers and IDs of their instant messengers.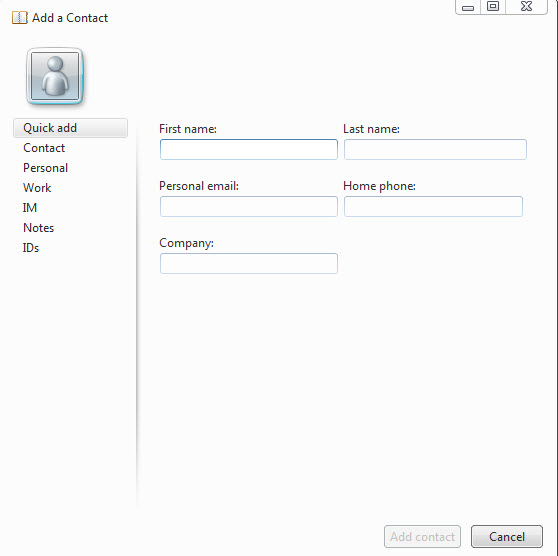 8. Filter or block spam
With right click on a message from your Inbox, you can block future emails from that address, mark as junk or confirm as safe.

9. Manage security and spam
From program's options you can add manually list with emails or domain names that will be automatically allowed or blocked, also you can remove blocked addresses, filter phishing emails or suspicious email content such as images that may hide a virus.

Visit website: http://www.microsoft.com/
Pros: is fast modern interface block spammers easily
OS: Windows 8, Windows 7 32-bit and 64-bit
License: Freeware