First thing observed is that the design of interface looks a little old, i don't know exactly if the program has been upgrade it this year (of course it was), but this tool supports a new design, even later i saw there are few other themes that looks similar.
At first installation, Comodo Antivirus is unclear what makes, but soon will start an auto update for latest virus definitions and will perform a full scan, which is recommended and useful to start knowing that computer is clean.
I like the simplicity and the program is efficient in detecting malware in real time, has detected all 12 different viruses from my test folder.
1. Installation of another programs
As a minus, the program will try to install some additional applications, but you can disable them if you choose Custom installation and deselect other applications except the antivirus itself.
2. Update with definitions
Since the installation will perform an automatic update to be sure that is running a database with latest solutions for new viruses.
3. Perform scan
At first use, the program will perform a full scan of computer and is recommend it to let it to do the job. You can pause or cancel it.
4. Clean interface
After installation and restart, the main interface looks really clean and very intuitive.
5. Easy to perform a scan
Select a type of scan and start searching for malware or problems in seconds.
6. Useful advanced options
It has all important options that an advanced user may need. You can exclude folders or applications from scan,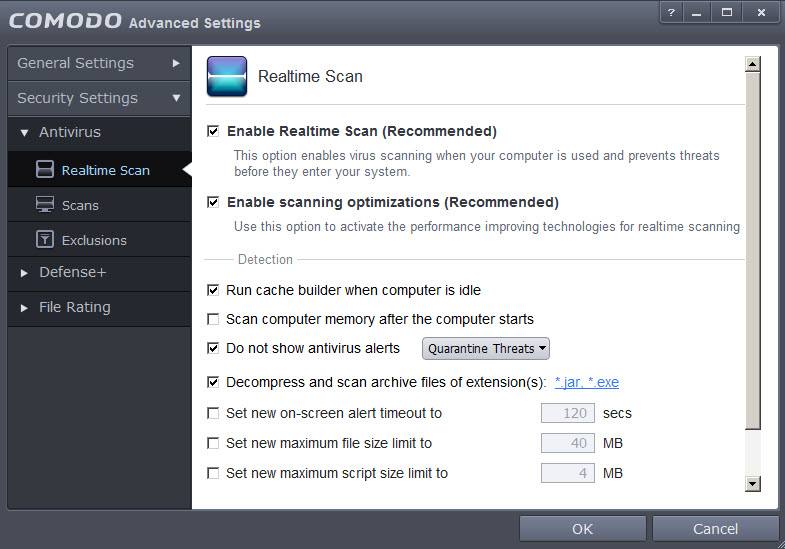 7. Multiple themes and languages for interface
There are a few themes to change the look of interface, also you can change language of interface to another one.
8. View reports
In reporting area you can view a status of actions performed by Comodo Antivirus, such as infections prevented, unknown programs blocked, last update etc.
9. See it at work
I opened an archive with dozens of different types of viruses and the program has alerted me and deleted files with viruses in a few seconds. Good job!
10. Notifications for malware
After will detect a virus, will display a notification to know that your computer was at risk
11. All suspicious files are moved to quarantine
In Quarantine area you can view a list with all detected viruses, you can sort them, delete or restore all or individual items.
Visit website: http://www.comodo.com
Pros: clean interface
Cons: offer to install additional programs and i don't like it at an anti-virus usability and design can be improved
OS: Windows 8, Windows 7 32-bit and 64-bit, Windows XP, Vista
License: Freeware