Defraggler features a portable version and allows to defrag individual files, folders or entire partitions. Includes a Schedule option to put the program on automated job and that allow to make defragmentation when you are not using computer or you are away or sleep. With a clean and intuitive interface, this software can rearrange Windows' hard disk files offering more features that default Windows utility.
1. Intuitive interface that displays useful info
It displays data about each hard drive such as type (NTFS or FAT32), capacity, used and free space.
2. Analyze hard disk
Program offers to clean unused or deleted files, which is a good thing, that will make the future operations faster. Is analyzing quickly selected hard drive and displays disk health status, how many files are fragmented and the percent. Furthermore, users can view the list with files and sort them by cluster color.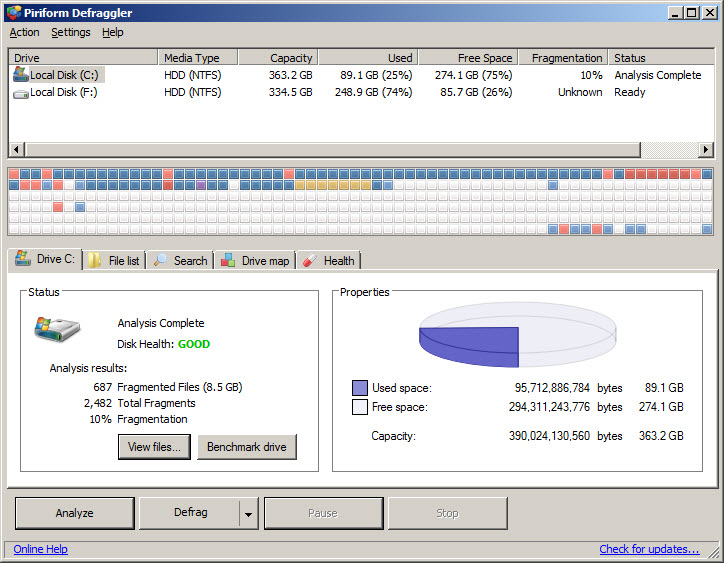 3. Defrag
After analyzing hard drive and selecting what to defrag (this step can be skipped), perform a full or a quick defragmentation that will rearrange all files on your system (the location of files will remain the same, but in backend will group different files that needs to be together).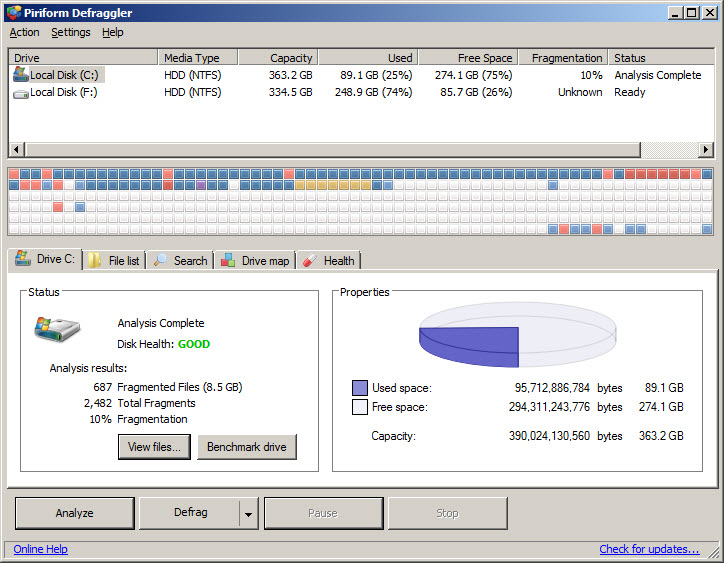 4. Set schedule
From file menu can set Defraggler to run automatically daily, weekly, in desired days of the week and at custom hours. Can be let to perform tasks and when is finishing, shut down computer automatically.
5. Run normal or in background
Supports options to run normally or in background, to not slow down computer if you are using it for another tasks. Is recommended to not perform another operations when is defragmenting, because PC will work harder.
6. Other features
It has an option to check drive for errors, also can exclude specific file types or folders, defrag a single file or folder.
Visit website http://www.piriform.com/
Pros: Good usability.
OS: Windows 8, Windows 7 32-bit and 64-bit, Windows XP, Vista
License: Freeware