To maintain an optimized computer, the periodic defragmentation is a must, especially if you are working with a lot of files and make multiple operations with your PC.
When you save, delete, copy different files or use programs, additional files may be saved in different location on physical hard drive (are fragmented). When Windows sees these files as a group, it takes more time to gather information from these different locations of physical drive.
Basically, the deframentation (defrag) means that will arrange again the files on a computer's hard disk.
Here is a list with
5 best free defragmentation software
.
Defraggler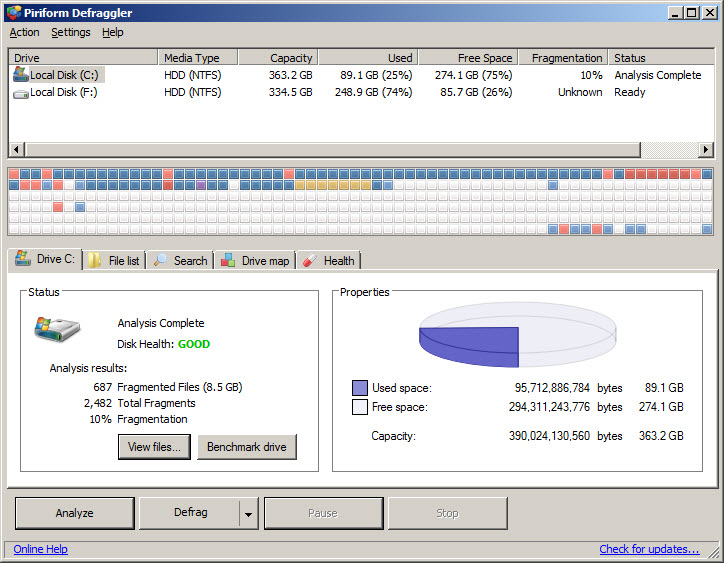 Defraggler have a friendly interface and can defragment only selected files and folders, includes colorful meanings of file types, supports advanced schedule easy to setup. Can run in background of current working applications. Supports most popular hard drives with NTFS and FAT32 file system.
UltraDefrag
UltraDefrag features a classic interface style, is working with FAT, exFAT and NTFS hard drives, defragment all files including those from file system. Files can be filtered or sorted before processing and it displays reports. Command line is available too. When defragmentation is done, can shutdown computer automatically.
Auslogics Disk Defrag
This program can be set to run only when computer is idle, supports various scheduling options. Interface is modern and all cluster blocks are nice colored with detailed info when you put the mouse hover them. Can automatically shut down PC after defrag, supports to select only certain files or folders or to exclude files with certain size or location on hard disk.
Windows Built In Disk Defragmenter
This is a default program that can be found in any Windows computer, accessible through "Start -> Search" option or Control Panel and features basic task of defragmenting entire partitions. Supports automatic schedule.
Download: is included in Windows
MyDefrag
Previously known as JKDefrag, My Defrag includes in addition some disk optimization features, offers custom scripts for advanced tech users. Interface is quite old and using it may be annoying sometime because main window is disappearing when you exit from current defragmentation task. A plus is that files used often are organized on physical location of hard drive from the beginning to the end.