A great design and a good usability for a small piece of software that is able to take screenshots of fullscreen, custom area or polygon shapes. Interface is very smart organized, i was really surprised to find a small tool that has a very smart organization.
DuckCapture includes an advanced image naming feature, you can select custom areas, active window, polygon shape or scrolling window.
Also has editing features for captured regions (for full screen captures i can't edit and add annotations).
1. Modern and straightforward interface
With a friendly and nice design, the program allows to access main features directly from interface.
2. Different image formats
From Advanced options you can choose default file format between PNG, JPG and BMP.
3. Advanced image naming
Create a custom pattern to name images automatically. Also, you can create subfolders and group images automatically.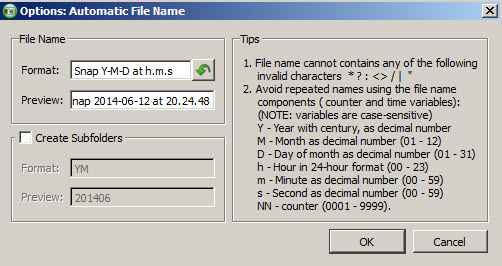 4. Smart hotkeys setup
Activate hotkeys and customize them for each action.
5. Capture custom region
Drag and click to select a custom region from computer screen to be captured. View width and height of image that will be produced, in real time.
6. Capture image from games
Use hotkeys to grab screenshots from a game that you are playing and DuckCapture will save each image to hard drive.
7. Useful editing tools
For captured regions allows to add annotations, add shapes, arrows and custom text. You can customize size and color.