With this program, finally, you have a good free instrument to make different types of screenshots and edit them. Screenshot Captor can save to different image formats, can capture custom regions and fixed size, includes many advanced options that you may change to work as you need.
Supports hotkeys to take printscreen with keyboard, also can grab images from games. Even is not very clear how to use advanced features at the beginning, after a few tries you will like it. It has hundreds of features and customizations.
1. Robust interface
Working interface is a small bar where you can access main features: grab current screen, active window, custom region, fixed size, set options and a few more.
2. Right click options
Even it looks small, the program offers a variety of features and options to set. With right click on icon from bottom right side, you have quick access to a list with written menu and features.
3. Custom action after screen capture
Set desired action that the program will perform after you make the screen capture.
4. Dozens of options
I like that the program has plenty of options that are really helpful to customize its behavior to work with it in an easiest manner.
5. Full screen capture
Capture full screen with a single click, then the program will open saved image for further editing or other actions, You can zoom in/out image.
6. Grab active window
With one click, i captured an image with my active window, which was the Firefox web browser with Google homepage on it.
7. Capture custom region
Drag and click to capture only region from your screen that you want.
8. Useful editing tools included
Highlight with colors, add free hand draw, add lines and arrows, shadows and more.
9. Zoom in/out pulling a line
Zoom until 1000% to view and edit all details.
10. Add one click effects and rotate
There are available different effects to optimize colors with one click. Adjust manually colors and contrast, invert colors and more.
11. Save image as PDF
Includes a button that will save current snapshot to a PDF file.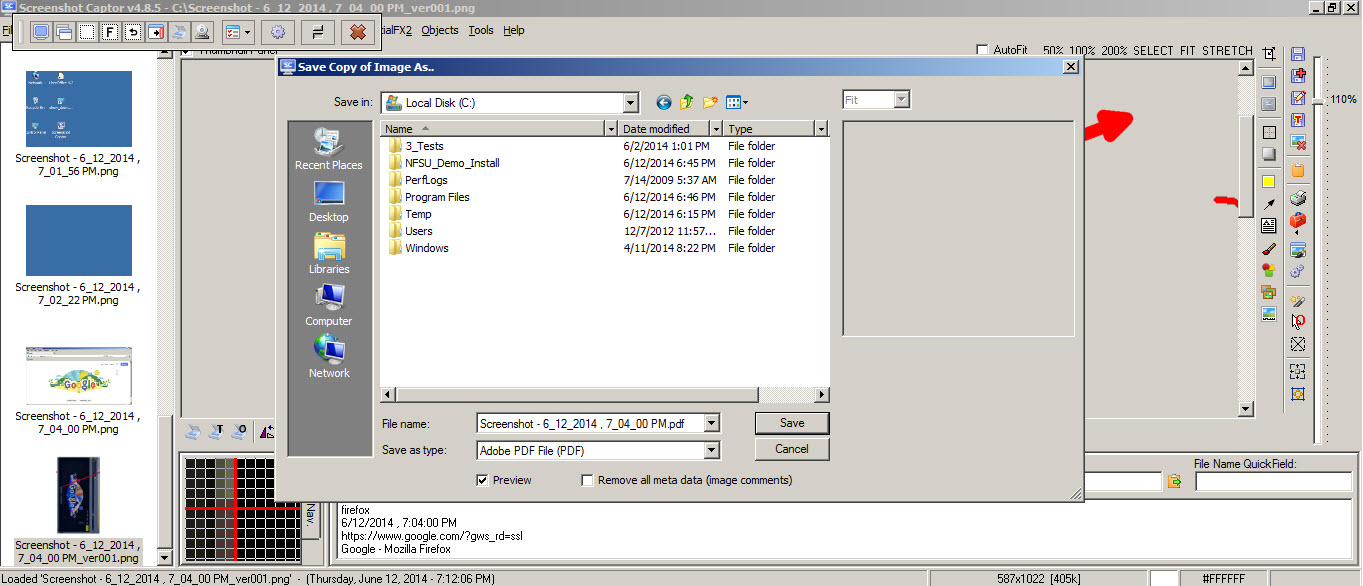 12. Keyboard shortcuts
Perform all captures with a combination of keyboard keys, instead using mouse. It may be more convenient.
13. Capture pictures from games
While i am playing a game, i can grab a picture pressing my keyboard shortcut. The program is able to capture images from games, too.
14. Save to different image formats
This application allows to save images captured to desired format: JPG, PNG, GIF ..
Visit website: https://www.donationcoder.com
Pros: small and fast capture custom regions capture active window save to different image formats
Cons: not very easy to understand at first use
OS: Windows 8, Windows 7 32-bit and 64-bit, Windows XP, Vista
License: Freeware